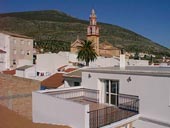 I have succeeded in opening a new flight centre, which is rapidly becoming a meeting point for pilots from all over the world, offering them all a pilots heart desires.
I discovered years ago this beautiful site and soon settled down here. This mountain and the landscape still fascinate me. The climate here is fabulous, even the winters here are much better for thermal flying than the summer in Germany or the UK. This is a very frequent comment of my visitors. Maybe we loose 2 or 3 weekends during the winter, but nearly every day of the rest of the year we get thermal flying. We are just far enough away from the Mediterranean Sea and the Atlantic Ocean in order not to get the influence of the sea. Till now the site was not very well known, but now it needs some small organization. This we shall try to achieve through my flight centre. For many years I have flown here, learning more each time more about the conditions and climate of this region. Anyway the numerous vultchers know more and show it to me. I enjoy very much to fly triangles with good pilots, visiting me, this is exactly what I want to do professionally. I wish to invite all hang gliding and paragliding pilots, hungry for sun and thermals to fly triangles or open distance, according to the weather situation with me. My offer will be individually adapted to the wishes and level of each pilot. I believe to be able to provide the adequate conditions for helping you to get the best flying out of your vacation. It will make it easier with groups of pilots with similar level. The flying will be adjusted to the pilots level, meteorological conditions, using different sites and different take offs at different hours of the day. Because of the very complicated microclimate this is not so easy. Apart from the flying and having fun together, my offer will be: Accommodation in the flight centre or in luxury apartments for 2 - 11 persons; individual guidance; weather analysis, transportation, airport transfer, and retrieval service, advices and help for alternative activities like horse riding, trekking in the national park, caving, climbing, sightseeing, water sports on the beautiful lake of Zahara and many more…
In the WAG and World Championship of Hang gliding 2001 in Algodonales I was participating as a member of the Spanish Team. I was also involved in the tasksetting and the preparation of the take offs, landings and turnpoints. I would like to say a big thank you to all the pilots who came, I hope you enjoyed your visit.